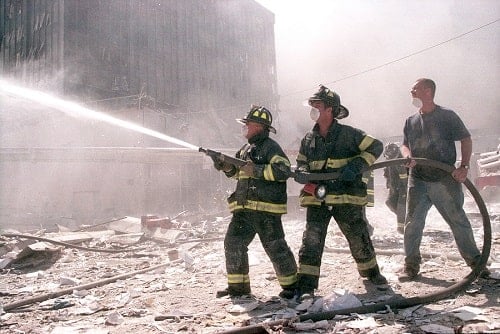 Seeking Compensation and Care for 9/11 Volunteers
The attacks that occurred on September 11, 2001, led to a massive nationwide response, with volunteers pouring into the area to deliver much-needed aid and assistance at Ground Zero.
Volunteers included:
Countless others also provided aid, helping with the rescue and recovery, feeding the workers and volunteers at Ground Zero, and countless more who aided with cleanup after the end of the attacks. Not only did these volunteers give their time and energy in the immediate aftermath of the attacks, often spending weeks or even months away from their families and their normal lives, they often put themselves in danger to aid others.
As time passed, many volunteers also discovered that they had unknowingly put their long-term health on the line to aid victims of the attack or aid with cleanup efforts.
Did you volunteer in any way during the 9/11 attacks, from providing immediate aid at the scene of the attacks to offering support and assistance to victims in the Lower Manhattan area in the days and weeks after the attack? Did you aid in cleanup efforts at Ground Zero?
If you became ill due to toxin exposure from the toxins at Ground Zero, you have the right to compensation. The September 11th Victim Compensation Fund, also referred to as the VCF, provides vital compensation for people who faced serious illness due to exposure to those hazardous toxins at Ground Zero.
An experienced attorney can help you seek the compensation you deserve, streamlining that process and providing you with assistance every step of the way. Contact Hansen & Rosasco, LLP today at 1- 855-416-7256 to learn more about your rights and the compensation available to you.
The Serious Consequences Faced by 9/11 Volunteers
9/11 volunteers hurried to the scene of the attacks, ready to provide whatever assistance they could in the aftermath of the attacks and the devastation they caused. Unfortunately, the devastating impact of those attacks did not end after the planes struck the buildings. Many 9/11 volunteers have already suffered devastating consequences for their efforts.
More than 400,000 volunteers, residents, and workers faced exposure to harmful chemicals and debris at ground zero. Those microscopic, pulverized building materials, which included asbestos dust, filled the air for months. Many volunteers who responded to the scene of the crisis and had little to no protective gear.
Since the attacks, the World Trade Center Health Program, which provides treatments for a specific list of health conditions caused by exposure to the 9/11 terrorist attacks, has identified more than 68 forms of cancer that could relate to the attacks and exposure to those hazardous chemicals. Conditions include:
Acute Injuries
Acute injuries occurred at the time of the attacks or during rescue efforts. The WTC health program identifies burns, eye injuries, fractures, and head trauma on the list of covered conditions. Most victims with acute injuries have already received aid and compensation for their efforts; however, many volunteers and victims continue to suffer the impacts of those disorders.
Lung Problems
Breathing debris can quickly cause an acute cough or trouble breathing. Long after that exposure, however, many volunteers discovered that they faced even more severe symptoms.
As a result of their exposure to hazardous chemicals on 9/11, victims may deal with:
Chronic cough
Asthma
Chronic respiratory disorders
Interstitial lung diseases
Lung cancer
Sleep apnea
COPD
A host of other lung ailments have also arisen. Patients with existing conditions may also have noted that those conditions worsened due to debris exposure after 9/11. In the immediate aftermath of the attacks, most people did not fully realize the potential hazard offered by those chemicals.
Digestive Challenges
In addition to breathing problems, some volunteers suffer from digestive disorders related to their efforts at the scene of the attacks. Victims may suffer from GERD, colon and digestive system cancers and disorders, and other problems that interfere with proper digestion. Many victims have received ongoing treatment for these disorders. In some cases, these digestive disorders may shape what the victim can eat long-term. Victims may need medication or surgical treatment to help manage their symptoms.
Cancer
Cancer occurs when fast-growing, malignant cells cause complications throughout the body. More than 5,400 people have faced a cancer diagnosis linked to the 9/11 attacks. Many victims have undergone treatment for those cancers. Others have died from the disease.
Cancers related to the 9/11 attacks can impact many areas of the body:
Heart
Lungs
Reproductive system
Thyroid
Nervous system
Urinary system
Soft tissue
Skin
Head and neck
Breast
Eye
Stomach and digestive system
Blood and Lymphoid tissue
Cancer can cause a wide range of symptoms depending on the area of the body it impacts. Many victims find that they suffer fatigue and lethargy, which can drain their enjoyment of life and make it difficult for them to maintain relationships and the activities they enjoy. Some aggressive cancers, including mesothelioma linked to asbestos exposure during the 9/11 attacks, may require aggressive treatment, and may end in death.
Cancer survivors may undergo multiple surgical procedures, chemotherapy, and radiation. Not only can these treatments prove extremely costly, they may also prevent the victim from working or engaging in normal activities during treatment.
We Represent 9/11 Volunteers
If you worked as a 9/11 volunteer, whether in the WTC cleanup efforts or the surrounding area, the 9/11 VCF lawyers at Hansen & Rosasco, LLP can help you obtain the compensation you deserve. Our goal is to help our clients achieve maximum VCF payments from the 9/11 Victim Compensation Fund. The VCF does not just provide compensation to victims from the day of the 9/11 attacks. It also offers compensation to volunteers who stepped up and sacrificed to help the immediate victims of the attacks or the clean up and assistance that was rendered in the many days and weeks afterwards. We can help our clients as they work to achieve compensation for their illness and suffering.
Our Clients Have a Better Understanding of the Compensation They Deserve
When you apply for compensation through the VCF, exactly how much compensation should you expect? Many of the victims of the 9/11 attacks, including the volunteers who sacrificed their health due to their efforts for others, walk away with less compensation than they deserve primarily because they do not fully understand exactly how much compensation they are eligible for.
You may deserve compensation for:
Any past medical expenses related to the 9/11 attacks. Many victims and volunteers do not realize that the VCF makes compensation available to them. You may fear that the time has run out on your ability to make a claim or to certify your condition for treatment through the WTC Health Program. We can help you calculate the value of your cost medical expenses and ensure that you receive compensation for those costs, whether you needed to undergo radiation and chemotherapy treatments for cancer or have ongoing expenses related to an asthma diagnosis.
Lost income due to illness sustained because of your volunteer efforts following the 9/11 attacks. Serious illnesses and treatment for those illnesses can prevent many victims from taking on their usual work responsibilities, especially if they work in very physical professions or for an employer that cannot make modifications to allow them to continue to work despite those difficulties. We will work with you to calculate the time you lost at work due to your 9/11 related illness. This does not include time missed at work as a volunteer, but does include the time that you may have missed at work in the years since 9/11.
Compensation for your suffering related to those illnesses. The VCF does not provide compensation for mental illness (such as PTSD) related to the 9/11 attacks. The WTC Health Program, however, does provide free lifetime treatment for PTSD and other mental health conditions. It does, however, help put compensation in place for victims' pain and suffering, including the pain and suffering of volunteers who have suffered serious illnesses as a result of their efforts following the attacks. Talk to an attorney about how the suffering you experienced due to your illness impacted each area of your life, including the activities you have missed out on due to your illness.
We Help Our Clients Get Certified for Treatment With the WTC Health Program
The World Trade Center Health Program provides ongoing, lifetime treatment for individuals who suffer from serious illness due to their exposure to hazardous debris and chemicals in the aftermath of 9/11. In many cases, you may have significant ongoing medical costs, many of which can cause a severe financial burden. The WTC Health Program ensures that you will receive treatment free of charge for all those ailments. You can also receive coverage for the prescriptions you need to take for your illness.
To receive free medical care and treatment, however, you need to have your illness certified. You may need to:
Make sure your illness appears on the list of conditions caused by 9/11 exposure. The WTC Health Program identifies several ailments often caused by debris exposure after 9/11. Many of those ailments may take several years before the victim starts to show symptoms. Mesothelioma, for example, can take between 10 and 50 years to start showing serious symptoms. In the case of other ailments, victims may have noticed the symptoms soon after the attack. An attorney can help you go through the list of diagnoses related to debris exposure after 9/11 and determine where your ailment falls on the list.
Show your presence in Lower Manhattan after the events of 9/11. With more than 400,000 people moving through the area after the 9/11 attacks, you may have little evidence of your presence—especially nearly two decades after the attacks. We help our clients find proof of their presence. As a volunteer, we might need to contact the organization you volunteered through or show evidence that you chose to go on your own. Whether you helped clear away debris after the attacks or aided in the immediate rescue and recovery efforts, we can help you find proof of your presence.
We listen to our clients' experiences.
In addition to assisting in your efforts to seek compensation for illness related to the 9/11 attacks, we want to listen to your story: to hear what you went through, why you chose to volunteer, and what you experienced in the aftermath of 9/11. Your personal experience matters, and we can address the needs of you and your loved ones with compassion, attention, and a commitment to securing the best outcome possible for your unique conditions.
A Look at Our Past Successes: A 9/11 Volunteer Case Example
Often, our efforts can help clients achieve more compensation than they would have received if they had pursued VCF assistance on their own.
Take, for example, a truck driver and firefighter represented by our firm. This volunteer suffered from prostate cancer, urinary incontinence, impotence, thyroid cancer, and extrinsic asthma due to his contributions at Ground Zero. He won more than $1.15 million in VCF payments for his efforts. We also helped him get certified for treatment through the WTC Health Program, ensuring that he could receive free lifetime cancer treatments from the Memorial Sloan Kettering Cancer Center in New York.
We provide similar service and assistance for countless 9/11 volunteers as they come through our offices each day, recognizing their sacrifices and the suffering they have faced as a result of their selflessness.
Did You Volunteer to Provide Aid or Cleanup Assistance After 9/11? Call Us Today
Your selfless commitment to aiding others may have led to more sacrifice than you originally expected, but that service does not go unrecognized or unappreciated. We can help you seek the compensation you deserve for illness suffered as a result of the 9/11 attacks. Contact Hansen & Rosasco, LLP today at (855) 353-4907 to learn more about the compensation you deserve for those illnesses, or to start the process of filing a VCF claim.