VCF Eligibility for 9/11 First Responders
Getting First Responders the Compensation and Care They Deserve
If you were a first responder, of any kind, who rushed to the Twin Towers at the news of the September 11, 2001 terrorist attacks – we thank you. Your acts of courage, heroism, and great sacrifice for the safety and care for others will never be forgotten.
On behalf of New York City, and the country as a whole – we are eternally grateful to you brave men and women.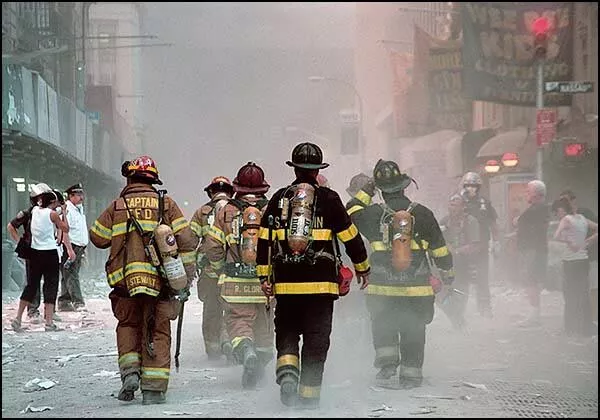 We Have Met Thousands of 9/11 First Responders
Our attorneys represent only 9/11 first responders and survivors. We have met with thousands of these first responders and have heard firsthand accounts of the sight that was September 11, 2001 – a true horror.
For many, we know that the horror on 9/11 and the days after were just the beginning of a lifetime of misery, with many first responders getting very sick – years after their service.
Many individuals and families of first responders are still living out this horror to this very day – and we are here to help.
We Have Advocated for First Responders Since the Beginning
9/11 NYC Police Officers (including superior officers)

9/11 Non-NYC Police Officers

Correction Officers and Staff

FBI, DEA, and other Federal Investigators

Court Officers

Port Authority Workers

9/11 NYC Firefighters (including superior officers)

Volunteer Firefighters

9/11 NYC and Private Hospital EMTs
9/11 Transit Workers

9/11 Sanitation Workers

9/11

Construction Workers

9/11 Utility Workers (e.g., Con Ed, Verizon, Time Warner, etc.)

9/11 Truck Drivers

9/11 Bus Operators (NYC Transit Authority/NYCTA)

Medical Examiner Physicians, Nurses, Administrators (and other staff)

Physicians (and other volunteers who helped with rescue, recovery and care for first responders)

9/11 Volunteers (e.g., Red Cross, Salvation Army, church groups and many other groups)

9/11 Federal Workers (e.g., FEMA, National Guard, among others)

Other New York City Workers responding to the "Crash Site Area"

This List if Not Exhaustive
This list is not exhaustive, and there are many other 9/11 first responders who answered the call and are eligible for an award under the VCF. If you were a 9/11 first responder, please call us to learn if you are eligible to file a claim.
First Responders Suffering from Cancer and Other 9/11-Related Illnesses
If you are a first responder suffering from a 9/11-related cancer or condition, please let the attorneys at Hansen & Rosasco, LLP take the process of filing a claim off your hands. You need and deserve the time to care for yourself, and our team will make this possible.
We would be honored to hear your story and start your claim process as soon as possible. You have given everything, and now it is time for you and your family to be compensated and cared for.
Get started today by calling us at 855-353-4907 or fill out a contact form here for more information on compensation for 9/11 first responders' cancer cases.
For Families Who Have Lost a Loved One That Was a First Responder
If you are a family member of a first responder who passed away due to a 9/11-related illness, whether it was on the day of the September 11, 2001 attacks or in the months or years following, there are compensation options we can help you apply for. To learn more about these options, see our information on compensation for families who have lost loved ones due to 9/11.
"I would like to say thank you for the superior customer service that I received from the minute I sat down for my consultation regarding my 911 Victim Compensation Fund case I initially met with the Mr. Hansen who is awesome. I was also lucky to met Mr. Rosasco. They treated me like family and placed me in the good hands of Ms. Sidrah Syed,Esq. Ms. Syed is extremely dedicated , knowledgeable and kept me updated through each step of the process. I am extremely please on how my case handled and very lucky to have her working on my behalf. God Bless you and your law firm for all that you have done for 911 Survivors." -Jeff F.