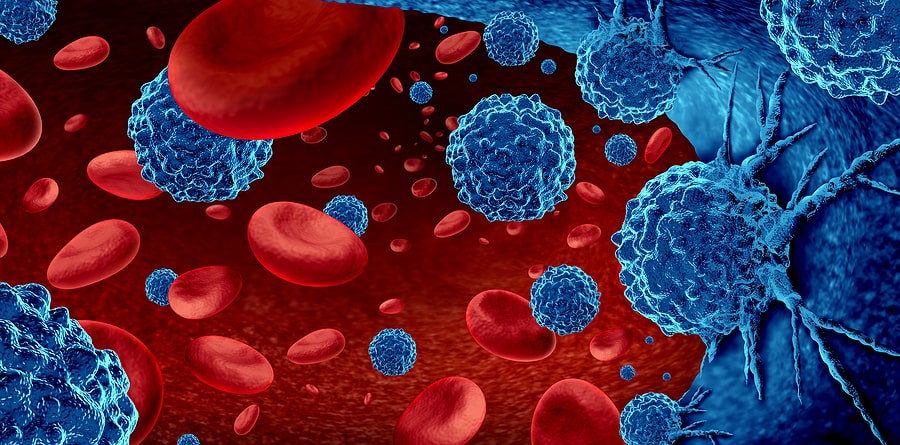 ​Diagnosed with 9/11-Related Leukemia: Now What? Recently, researchers from New York teamed up with scientists from Vanderbilt-Ingram Cancer Center to conduct a study to determine if first responders who were present in the Lower Manhattan exposure area on 9/11 or in the months that followed had a higher risk of developing genetic mutations that can lead to blood cancers such as leukemia. This recent study adds more support to the already proven link between exposure to 9/11 toxins – by first responders, downtown workers, residents, students, and others – and leukemia and other forms of blood cancers.
They found that the risk of these mutations was significantly higher among the 9/11 first responders when compared to the DNA of firefighters of a similar age, sex, and smoking status who had not been exposed to the toxins at and around the World Trade Center after the towers collapsed.
Leukemia is a devastating, costly disease. It takes a significant physical, emotional, and financial toll on those who suffer from it. If you were a first responder or lived or worked Downtown any time from 9/11 though mid-2002 and were diagnosed with leukemia at any time during the past 20 years, you may obtain medical and financial assistance from two important federal programs: the World Trade Center Health Program (WTCHP) and the September 11 Victim Compensation Fund (VCF).
What Toxins from the WTC Dust Plume Have Caused Some People to Acquire Leukemia?
Leukemia is a type of cancer that occurs in the body's blood-forming tissues, including the bone marrow and the lymphatic system. It can develop after exposure to benzene, which is one of the many toxic substances contained in the dust cloud that blanketed and hung over Lower Manhattan on 9/11 and the year afterwards.
Benzene is a commonly used chemical. It is a primary ingredient in jet fuel (an estimated 24,000 gallons of which was released when the planes struck the Twin Towers) and gasoline and building materials such as plastics, resins, nylon, and synthetic fibers.
The toxic dust at and near Ground Zero (as far north as Canal Street and reaching as far as Brookly Heights) contained several cancer-causing materials in addition to benzene. About 80-90 percent of the dust that enveloped Lower Manhattan when the towers collapsed and lingered in the air for months after consisted of materials released in the collapse of concrete floor slabs within the 110-story towers.
These slabs contained gypsum, wallboard, paint, glass, metal fragments (including copper and lead), and tiny insulation particles (including asbestos). The mixture produced an air quality at the site that was roughly as toxic to humans as ingesting drain cleaner two days after the attack.
The Costs Associated with Treating Leukemia
According to a report from the Leukemia & Lymphoma Society, approximately 174,000 people under the age of 65 in the U.S. will develop blood cancer—such as leukemia—in any given year. In the U.S., insurers spend about $156,000 to treat a blood cancer in the first year after diagnosis. The cumulative three-year cost of treatment for leukemia varies depending on the type of leukemia.
Individuals with chronic leukemia can expect three-year treatment costs of around $200,000, while the cost of treating acute leukemia is around $800,000 over three years. Even at three years post-diagnosis, individuals treated for blood cancer generally incur out-of-pocket costs that are twice the level they were spending pre-diagnosis. These costs include insurance deductibles, prescription co-pays, and any expenses not covered by insurance (including blood therapies).
The Non-Financial Impacts of Leukemia
Leukemia is an expensive illness to treat. Beyond the financial impact, however, there are aspects to the illness that touches every part of the sufferer's life.
#1. Mental Health Challenges
Most individuals who have been diagnosed with leukemia experience moments where they feel like they've lost control of their own lives. This is expected, given the gravity of having one of the most deadly forms of cancer. Anxiety over the diagnosis or just before a scheduled checkup is also common. In addition to anxiety, leukemia patients may suffer depression or sadness about their diagnosis, the impact of the disease and its treatments on their lives, and (for some) the inability to work.
#2. Continuing to Work While Living With Leukemia
Many individuals who receive treatment for leukemia become immune-compromised and can remain so weeks or months after treatment has ended. This can make working outside the home extremely difficult, if not untenable.
Additionally, treatments for leukemia, such as chemotherapy, can leave a person feeling ill and unable to perform the duties of a job until their strength has returned. Even those who manage to continue working during and after treatment will often require a more flexible work schedule of fewer hours or days to combat the fatigue from blood cancer treatments, such as bone marrow transplants.
#3. Impacts on Relationships with Family Members and Friends
Individuals who suffer from serious health conditions like leukemia often experience changes in family and intimate relationships. Spouses and family members often become the patient's primary caregivers, responsible for managing medications, providing transportation to medical exams, and performing day-to-day tasks cooking, cleaning, and childcare.
Because many leukemia patients are immune-compromised, they often must avoid large groups of people, particularly while viral illnesses like COVID-19 circulate in communities. This can leave the cancer patient feeling isolated and make it difficult to maintain friendships with others or participate in favorite activities or pastimes.
#4. Traveling with Leukemia
Suffering from leukemia can make travel a dangerous and complicated activity. The disease can make patients prone to serious and frequent infections, and treatments can compromise the patient's immune system. Individuals living with leukemia must frequently avoid air travel due to the recycling of air in the plane's cabin, which can foster illness.
If they travel, leukemia patients must also limit their itineraries to areas near a hospital. When traveling by car, they often must break a trip up into short segments to avoid becoming nauseous from the vehicle's motion and combat fatigue. Additionally, leukemia patients who travel must always ensure a ready supply of medication available. Typical travel snafus like lost luggage or a long delay do not put them in danger.
Federal Assistance Available for 9/11-Related Leukemia
Within months of the terror attack in 2001, the picture started becoming clear: Those exposed to toxic WTC dust either on the day of the attack or in rescue, recovery, and cleanup efforts that followed were becoming sick. Within a few years, more illnesses developed among those who had suffered toxic exposures. More than 500,000 people faced a severely heightened risk of acquiring serious and even deadly 9/11-related diseases.
In 2011, the James Zadroga 9/11 Health and Compensation Act was signed into law, providing funds and authorization to create two federal assistance programs to help with the profound medical issues the 9/11 responder and survivor community faced. While each of these programs has suffered funding difficulties through the years, they were fully funded in 2015 and 2019 and are open and accepting new members and claims.
The World Trade Center Health Program (WTCHP)
The WTCHP officially launched in July 2011. It provides medical monitoring and treatment of 9/11-related illnesses for the 9/11 community of first responders, general responders, and survivors (those who lived, worked, were passersby in the area, or attended schools or daycare in Lower Manhattan on 9/11 or in the following months).
The Program offers its services in New York City at hospitals designated as Clinical Centers for Excellence and elsewhere from Nationwide Provider Network members. WTCHP services are free, provided the member obtains all treatments and medications from the Program or its networked partners.
In addition to medical monitoring and treatment services, the WTCHP certifies its members' 9/11-related health conditions. The other federal benefits program for responders and survivors, the September 11 Victim Compensation Fund (VCF), uses those certifications to determine a person's eligibility to receive financial compensation from the Fund.
Individuals who wish to obtain monitoring and treatment through the WTCHP can apply online for the Program. To be eligible, they must supply proof that they were present in Lower Manhattan or at another 9/11-related site during a period when they may have suffered a toxic exposure.
The September 11 Victim Compensation Fund (VCF)
Congress established the original VCF within weeks of the terror attack to bring financial relief to those most impacted by 9/11. The Fund closed in 2004 but reopened in 2011 by the Zadroga Act. In 2019, after a series of interim measures that provided temporary funding for the VCF, President Donald Trump signed a permanent authorization of the Fund into law. The permanent authorization ensured that registered claimants would be able to seek compensation for the expenses and impacts of 9/11-related illnesses between now and October 2090.
The VCF provides compensation to those who have acquired one or more illnesses related to the toxic exposure they suffered due to the terror attacks on 9/11. It also compensates family members whose loved ones died due to a 9/11-related illness.
The financial benefits paid by the VCF include compensation for wage losses and expenses resulting from having a 9/11-related illness and for a victim's pain and suffering caused by the illness. Individuals diagnosed with cancer—including leukemia—can seek up to $250,000 in pain and suffering damages from the VCF. In contrast, those who suffer from a non-cancerous condition can seek up to $90,000 for their pain and suffering.
To obtain compensation through the VCF, individuals must register with the Program within two years of obtaining certification of their 9/11-related illness from the WTCHP or other qualified medical providers. The registration is not the same as filing a claim but is required to reserve your right to file a claim. If you were never in the WTCHP or your condition was never certified, then you likely still have time to register with these programs even if more than two years have passed.
How a Lawyer Can Help You Obtain Assistance?
The process of obtaining 9/11-related medical and financial benefits through either of the federal assistance programs described above does not require you to hire an attorney. However, the eligibility criteria and the evidence needed to prove presence at a 9/11 exposure site have grown increasingly complex. A lawyer with experience navigating these programs can provide valuable services to help ensure you get the compensation and treatment you need as quickly as possible.
A 9/11 benefits lawyer can:
Apply for WTCHP membership to obtain medical monitoring and treatment of 9/11-related conditions.
Register you with the VCF to reserve your right to file a claim for compensation at any time.
Gather evidence to establish proof of presence.
File your VCF claim and assist with getting an expedited review of your claim if you are terminally ill or facing serious financial strain.
Represent you in appealing an adverse benefits decision from the WTCHP or VCF.
Identify the other government and charitable programs that may assist you with the challenges you face and determine how receiving aid from those programs may affect your WTCHP and VCF benefits.
Were you diagnosed with 9/11-related leukemia? Let a VCF/WTCHP attorney help you obtain your 9/11 benefits, starting with a free case evaluation.