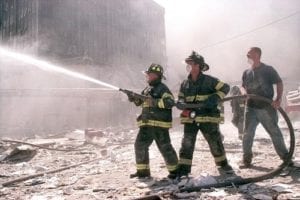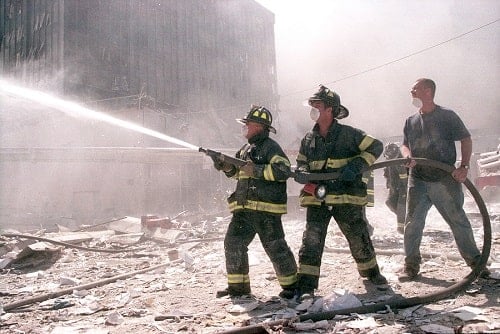 The James Zadroga 9/11 Health and Compensation Act created the Victim Compensation Fund (VCF) to help first responders, New York survivors, and families who suffered from illness and harm after the terrorist attacks. When the World Trade Center towers fell, they released more than 2,500 contaminants and toxins into the air. This toxic dust cloud contained asbestos, fiberglass, concrete, and other chemicals.
As first responders arrived on the scene, they breathed in this deadly dust and air. On 9/11 and the many months after, residents and workers from the businesses in the downtown area near Ground Zero also breathed in these same deadly toxins. As a result, thousands developed cancers. Even more continue to live with chronic and debilitating long-term illnesses.
To help these victims, Congress established the September 11th Victim Compensation Fund. This fund allows survivors of 9/11 — the first responders, downtown area workers, students, residents, and their families — to receive compensation and awards to offset the injury and harm they suffered.
However, most downtown residents and area workers don't know that they may qualify for compensation. Further, many are afraid to apply because they do not want to take funds away from first responders. Fortunately, however, qualifying New York residents, lower Manhattan workers, students, and their families, can get compensation without worry about depleting the 9/11 fund.
What is the 9/11 Victim Compensation Fund?
The 9/11 Victim Compensation Fund (VCF) provides monetary compensation to anyone who were present at the World Trade Center or surrounding New York exposure zone (the area south of Canal Street). It also covers first responders who were present at the Pentagon and Shanksville, Pennsylvania, crash sites. To qualify for compensation, your presence in those areas must be any time between September 11, 2001, and May 30, 2002. You must also receive a diagnosis of a 9/11-related illness, one of over 68 types of cancer (including lung cancer, breast cancer, prostate cancer — over 70 different types of cancer), or any other similar medical condition.
Fortunately for New York residents and people who worked downtown on 9/11 or at any time in the many months after 9/11, the VCF is not limited to just first responders. Business owners, employees, and residents who lived, worked, and went to school in the 9/11 crash site toxic exposure zone (the entire downtown Manhattan area south of Canal Street) may qualify for compensation.
Over the years, the 9/11 Victim Compensation Fund went through various changes and reauthorizations, and this can confuse many people about what and who the VCF currently covers.
A brief timeline of events shows how the VCF received funding and support throughout the years.
2001 to 2004. The original Victim Compensation Fund operated from 2001 to 2004. It provided compensation to anyone who suffered harm due to the terrorist attacks.
2011

. In January 2011, President Barack Obama signed the James Zadroga 9/11 Health and Compensation Act of 2010. This reactivated the VCF and authorized it to operate for five years, until October 3, 2016.

2015.

In December 2015, President Obama signed the law that extended the Victim Compensation Fund for an additional five years, until December 18, 2020. The law also changed the way the VCF evaluated claims and calculated losses.

It capped non-economic losses (pain and suffering) due to cancer at $250,000.

It capped non-economic losses (pain and suffering) not due to cancer at $90,000.

It prioritized victims suffering from the most debilitating physical conditions.

It capped Annual Gross Income at $200,000 for each year as a basis for the VCF to calculate past and future lost earnings.

It removed $10,000 minimum awards.

2019.

In July 2019, President Donald Trump signed

H.R. 1327

into law. This law fully funded the VCF to pay all approved claims. It also extended the deadline for filing a claim to October 2090. This allowed anyone sick — in the past, now, or any time in the next 70 years — to be paid compensation after suffering harm due to being exposed to the 9/11 fallout.
How to Apply for the 9/11 Victim Compensation Fund
The best way to apply for the 9/11 Victim Compensation Fund is to contact a law firm with experience representing 9/11 survivors and their families. Filing a claim takes time, dedication, resources, and considerable knowledge of the 9/11 VCF and how it's changed over the years as well as the 9/11 approved illnesses and cancers. Survivors need someone on their side who understands the complexities of these cases, as well as the legal paperwork required to file a successful claim.
Since the U.S. extended and reauthorized the VCF numerous times over the years, the filing process changed. Now, applicants must consider even more steps and qualifications. To feel confident that you will receive the maximum compensation you deserve, it is best to let a law firm dedicated to 9/11 claims to handle your case.
When applying for 9/11 Victim Compensation Fund, you must consider the following questions:
Did you live, work, or go to school near Ground Zero between 9/11/01 and 05/30/02?

Did you work in construction, handling debris or rubble from the site of the attacks?

Were you a first responder, such as an EMT, NYPD, FBI, FDNY, National Guard, or other responder or volunteer?

In the past 19 years, were you diagnosed with any breathing or digestive illness or any form of cancer?
If you answered yes to one or more of those questions, you should speak with an experienced and skilled 9/11 lawyer who can further evaluate your claim. Not all New Yorkers qualify for compensation, but many are surprised to find that they do, even if you have since moved away since 2001.
Evaluating Your Claim
When you meet with a 9/11 attorney, they will evaluate your claim. To do this, your attorney will listen to your story and your concerns. They will review your medical records and documents and help determine if you qualify for assistance and payment from the VCF.
Some of the cancers and illnesses that may qualify for VCF compensation include, but are not limited to:
Hodgkin's disease lymphoma

Asthma

GERD
This is not an exhaustive list of conditions. Even if you do not see your illness or condition on this list, you may still qualify, so don't assume you don't. Instead, discuss your case with an experienced 9/11 attorney immediately.
Only people with conditions certified by the World Trade Center Health Program qualify for compensation from the VCF. As such, survivors must ensure that the WTCHP certifies that exposure at or near Ground Zero caused their illness before proceeding with VCF compensation. A September 11th lawyer can help evaluate and file your claim.
Applying and Submitting Your Claim
Your attorney will then go through the process of creating your account and registering with the VCF. This preserves your claim now and in the future. The process of applying for compensation involves paperwork and creating legal documents such as witness affidavits or declarations. It also involves gathering and uploading the supporting documents to accurately establish your illness or condition.
This can take time and resources. That is why you are best off letting an experienced 9/11 attorney handle this complicated process. After all, government processes are rarely easy and often require a tremendous amount of knowledge and patience. Spend your time focusing on your health and your treatment, while your lawyer focuses on making a successful claim for the maximum amount that is paid as quickly as possible.
If you or a lawyer on your behalf registers by July 29, 2021, the law presumes you have filed a timely claim. You can still file after that, but you can make your claim harder to prove since medical records will be harder to get and the witness affidavits required for a successful compensation claim are difficult or impossible to obtain, so act now.
When you register with the VCF, you do not waive any of your legal rights. Also, you are under no obligation to file a claim in the future. However, you must register if you wish to file a claim in the future for compensation.
Expediting Your 9/11 VCF Claim
At times, your 9/11 lawyer can expedite your claim. If your case involves a terminal illness (such as stage 4 cancer) or significant financial hardship, your attorney can request that the VCF expedite your claim and process it quickly.
What is financial hardship? Survivors under financial hardship must face eviction, pending foreclosure, utility cutoff, or other urgent circumstances. Your attorney will then need to provide the necessary documentation to expedite your claim. When you have an experienced law firm working on your behalf, you can rest assured knowing that your claim will move efficiently and swiftly through the system.
Appealing a Denial
Sometimes the VCF denies a claim or awards you less than you believe you deserve. When this occurs, survivors may feel lost, confused, and uncertain of what to do next. Fortunately, the VCF allows appeals. However, your attorney must file the appeal within 30 days. You can only appeal a denial or an award if your letter includes an Appeal Request Form.
The intricate appeals process requires that you take specific steps. You must also meet specific deadlines during the appeals process. Your 9/11 attorney can protect your rights throughout the appeals process and ensure that you do not miss any critical deadlines.
One downside to filing an appeal is that payment of your award will be delayed until your appeal is decided, many times a year or longer. We have obtained and reviewed thousands of 9/11 VCF awards, so are able to provide you answers and guidance if the award is correct or if you should appeal.
Amending a Claim
Your September 11 attorney can amend your claim if you seek a new award or determination based on new information. For example, if you receive a new diagnosis or suffer a new loss, you can amend your claim at any time before the VCF finalizes a substantive review of your claim.
If you already received an award from the VCF, but you are later diagnosed with a new cancer or other condition (or your situation changes such as if you received Social Security Disability or are out of work due to your 9/11 disease), we can amend your claim for additional compensation. There is no limit on the number of amendments that we can submit on your behalf.
Your 9/11 VCF attorney can provide you answers as to when to amend a claim, and then upload to the Fund new documents and records supporting your new diagnosis or worsening condition for additional compensation. The VCF review process will then begin based on the documents and other information submitted with your amendment.
The VCF caps non-economic (pain and suffering) losses. As such, once you reach that cap, you cannot seek further non-economic compensation. Currently, the cap is $90,000 for victims suffering from any non-cancer-related illness and $250,000 for victims suffering from cancer. The VCF does not cap economic losses such as past out-of-pocket medical expenses, lost earnings, payments for household help, burial/funeral expenses, etc. Most of the successful multi-million dollar awards that we have won include claimants who suffered pain and suffering plus economic losses such as lost earnings and benefits.
The VCF makes exceptions to the caps on non-economic awards, such as with claimants with multiple cancers. While some amendments result in a substantial change in your VCF award, others may not; so discuss amendments with your September 11th attorney. Your 9/11 attorney can maximize your claim from the start and help you throughout the process.
Collecting Compensation
Once you receive an award, your claim will proceed to payment unless you choose to appeal the award. The 9/11 Victim Compensation Fund does not prorate any payments you receive. As such, you receive full payment of the claim. If you do not appeal the award, the VCF processes your payment once the 30-day appeal period ends. It can take as long as two to three months from the date of your award letter to receive a final payment. If you choose to appeal, the VCF suspends the processing of your payment (for as long as a year) until it decides your appeal.
Reimbursements for Medical Expenses
After the VCF issues your award, your 9/11 attorney may then seek reimbursement for any out-of-pocket medical expenses that you paid. You can only seek reimbursement for medical expenses of more than $5,000. This requires the additional submission and review of documentation to establish your out-of-pocket reimbursement claim.
These claims take time to process. As such, they can delay your award. Your 9/11 attorney can help you determine if you qualify for reimbursement and then file the necessary paperwork on your behalf.
As you can see, the difficult process for receiving 9/11 VCF compensation takes time and extensive knowledge of specialized VCF processes, requirements, and documentation.
Do not attempt to file for compensation alone. You have hope and help available. First responders, 9/11 survivors, and their families often find that they can achieve greater compensation with the help of an experienced New York based 9/11 law firm.
What Is Your 9/11 Story?
Everyone's story is different, but we all remember where we were on 9/11 and during the difficult months that followed. Some are the 9/11 first responders who rushed to Ground Zero on that horrible day and were part of the bucket brigade or other brave efforts. Others include the thousands of others who worked or lived in the downtown areas breathed the same cloud of toxic dust and fumes that hung in the air over lower Manhattan for the many months after the attacks. These 9/11 survivors went back to work or to their homes in Manhattan, held our economy together and supported our City. They went back to school, their apartments, and work and kept their businesses open all while breathing in toxic air laced with carcinogens, like asbestos and lead, perhaps unaware of their own heroism.
A Piece of Troy Rosasco's Story
Your story matters, and you deserve to have a New York legal team on your side that understands that story and how it relates to your future and your health. You need someone in your corner who can fight for you and your family, while you focus on your health. You are not alone. To learn more about the 9/11 Victim Compensation Fund and whether you qualify, contact an experienced and skilled 9/11 lawyer today.