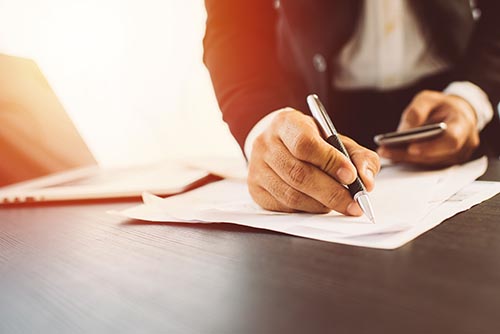 Nearly 20 years after the September 11, 2001, terrorist attacks in lower Manhattan, first responders and others who came at the scene that day and during the clean-up effort continue to fall ill with cancer and other diseases related to exposure to toxic dust and materials at the World Trade Center site. Because certain types of cancer have a long delay (latency) period between toxic exposure and the appearance of the disease, even more of these individuals are expected to receive a diagnosis in the coming years.
Some individuals who have received monitoring and treatment for 9/11-related medical conditions may have received their diagnosis through health care services administered by the WTC Health Program and provided by doctors and staff at a WTC Center of Clinical Excellence, including NYU Medical Center.
This article addresses some questions those individuals may about obtaining records related to their monitoring and treatment at NYU, and about their options for receiving 9/11-related compensation and benefits generally.
Overview of the WTC Health Program
In early 2011, then-President Barack Obama signed the James Zadroga 9/11 Health and Compensation Act of 2010 into law. The Act has since been reauthorized twice and is now funded until 2090.
It established or reauthorized the programs in place to assist 9/11 first responders and survivors exposed to the toxic debris from the attack, including:
The WTC Health Program provides no-cost medical monitoring, screening, and treatment to individuals who were exposed to the dust plume at the World Trade Center either on September 11, 2001, or during the rescue, recovery, and cleanup efforts that took place over the following months.
Individuals who have applied for the program and are eligible for screening receive a one-time initial health evaluation. This evaluation includes a 9/11 exposure assessment, medical history, mental health questionnaires, a physical examination, a breathing test, a check of the patient's vital signs, blood tests, and a chest X-ray if it is deemed medically necessary.
Members of the WTC Health Program also receive annual exams to monitor their health for signs or symptoms of a 9/11-related illness.
Additionally, those who have had a 9/11-related illness certified by the program are eligible to receive more services, including:
Medical and mental health treatment for covered conditions;
Cancer screening when indicated; and
Counseling services on the benefits you are eligible to receive as a 9/11 responder or survivor.
The WTC Health Program is not intended to replace an individual's primary medical insurance or to serve as an individual's primary care provider. Members of the Program must still maintain separate health care coverage.
NYU's Role in the WTC Health Program
New York University's Grossman School of Medicine World Trade Center (WTC) Health Program Clinical Center of Excellence at the Bellevue Hospital Center on Manhattan's East Side is one of seven medical centers established by the Zadroga Act to provide monitoring, treatment, screening, and support services to WTC responders through the WTC Health Program. The program provides services to responders from any of the 9/11 terrorist attack sites, with the majority being responders at the World Trade Center.
Those who receive their WTC Health Program benefits through NYU include:
Police and other law enforcement officers.
Firefighters.
Public sector employees.
Technical and utility workers.
Health care personnel.
Transportation workers.
Federal employees.
Cleaning and maintenance personnel.
Emergency medical technicians and paramedics.
Construction workers.
Ironworkers.
Media personnel.
Volunteer workers.
To obtain health monitoring and medical treatment through NYU, you must have been exposed to the toxic dust plume through work or volunteer activities between September 11, 2001, and May 30, 2002, and:
You worked in on-site rescue, recovery, demolition, debris cleanup, or related support services in lower Manhattan, south of Canal Street, in the Fresh Kills Landfill, or at the barge loading piers.
You are an active or retired member of the New York City Police Department, the Fire Department of the City of New York, or the Port Authority Police Department of the Port Authority of New York and New Jersey who participated in onsite rescue, recovery, debris cleanup, or related services in lower Manhattan, south of Canal Street, including Ground Zero, the Fresh Kills Landfill, or the barge loading piers.
You were an employee of the New York City Office of Chief Medical Examiner or other morgue workers involved in the examination and handling of human remains from the World Trade Center attacks.
You were a worker in the Port Authority Trans-Hudson (PATH) Corporation Tunnel.
You were a vehicle maintenance worker who was exposed to debris from the WTC site while retrieving, driving, cleaning, repairing, and maintaining vehicles contaminated by toxic dust from the 9/11 attacks.
Some of the cancer screening services that are provided by NYU to members of the WTC Health Program include:
Breast cancer screenings (mammogram): Female members of the WTC Health program who are between the ages of 50-74 are provided with a free mammogram every other year.
Cervical cancer screenings: Most female members between the ages of 21 and 65 are eligible to receive a free Pap smear every three years or a Pap smear and HPV screening once every five years.
Colon cancer screening: This is provided to all members between the ages of 50-75.
Lung cancer screening: This is provided through a low dose CT scan annually for members who are at high risk for developing lung cancer, including those who are current and former smokers.
What Happens After Your Initial WTC Health Program Evaluation
Responders who have completed their initial WTC Health Program evaluation at NYU Grossman can expect one of three outcomes:
If you currently have no symptoms that would indicate the presence of a severe medical condition resulting from 9/11 exposure, then you will be asked to return for your annual screenings in one year.
If you have symptoms that could be related to 9/11 exposure but more information or tests are needed to make the diagnosis, you will be scheduled for follow-up appointments for those tests to be conducted or the information to be gathered.
If you receive a 9/11-related diagnosis of a certifiable condition, you must go through the process of having the condition certified to continue receiving medical benefits through the WTC Health Program. Certification can occur if the condition is included on the program's list of certifiable conditions, your health condition and exposure meet the program's criteria, and your 9/11 exposure likely contributed significantly to the condition you are now suffering from. If your condition meets these criteria, then your program doctor will request that the program certify your condition. If your doctor fails to request certification of your condition, you can request a secondary medical review that is conducted by a program designee.
Reasons You Need to Make a Medical Records Request
If you received treatment from NYU for your 9/11-related medical condition as a member of the WTC Health Program, then you may need to obtain copies of your medical records to obtain VCF benefits.
VCF is a program that, like the WTC Health Program, assists those who were exposed to toxins at the 9/11 terrorist attack sites. VCF provides wage loss and pain and suffering compensation for those who have suffered certified 9/11-related medical conditions. Additionally, VCF also provides wrongful death compensation to the family members of individuals who died as a result of a certified 9/11-related medical condition.
To obtain compensation from VCF, you must file a claim documenting your entitlement to compensation as a result of having been present at Ground Zero or a clean-up site, and of having developed a qualifying 9/11-related health condition.
VCF generally does not require WTC Health Program members to submit medical records in support of compensation claims, so long as the WTC Health Program has certified their illness or health condition as 9/11-related.
However, that does not mean you will never need your WTC Health Program records in connection with a VCF claim.
Seeking Above-Minimum VCF Benefits
For example, if you suffer from a 9/11-related medical condition that has been certified by the WTC Health Program, but is not included in the list of ailments the VCF considers "presumptively severe and debilitating", then to receive more than the minimum compensation available from VCF, you may need to supplement your VCF claim with medical records showing the severity of your illness and its impact on your life.
In evaluating that sort of compensation claim, the VCF may request:
Records of hospitalization, emergency treatment, or surgery that was required to treat your condition.
Test results or treatments that are prescribed that indicate the severity of your condition.
Medical records documenting the severity of the impact your condition has had on your daily life.
Assisting an Attorney in Evaluating Your Case
Another reason you may need to obtain your medical records is to assist an experienced 9/11 claim attorney in understanding the facts of your case and determining how to obtain maximum compensation for you from VCF.
Initially, the programs created through the Zadroga Act were supposed to be simple enough that 9/11 responders, survivors, or their family members could obtain benefits without the assistance of an attorney. However, in the years since the Act was initially signed into law, the policies and procedures governing the administration of the WTC Health Program and VCF have grown increasingly detailed, including hundreds of pages of regulations, policies and procedures, and other requirements. The increasing complexity of applying for and receiving assistance, like with many federal programs, through these programs has made it necessary for many people to hire an attorney to guide them through the processes.
Death of a Program Member
Medical record requests are also frequently made in cases where the responder (or a Downtown area worker, resident, or student) has died from a 9/11-related medical condition and his or her loved ones are seeking compensation from the VCF. The records are necessary to be used in some cases to prove that the death was directly related or significantly contributed to by 9/11 toxic exposure.
Transferring Providers
You can also find yourself needing to request a copy of your medical or mental health records if you are transferring to another WTC Health Program medical center in New York or are moving out of state and wishing to be matched with a provider through the program's National Provider Network.
How to Obtain Your Medical Records from NYU
To obtain your medical records from NYU Grossman School of Medicine's WTC Health Program, you should:
Ensure that the records you are seeking are from October 13, 2013, or later. Earlier medical records cannot be obtained through the process described below.
Fill out a printable copy of the form required for the type of records you are requesting. Copies of medical records can be obtained by printing and completing this form. If you are requesting copies of mental health records, then you will want to complete this form.
Send the completed form to NYU Grossman School of Medicine, WTC Health Program Clinical Center of Excellence, 650 First Avenue, 7th Floor, WTC Suite New York, NY 10016.
The process above is only for Grossman School of Medicine patients who are members of the WTC Health Program. If you need your medical records from other NYU-affiliated medical providers or facilities, then inquire with them directly about the process of requesting the records you need.
If you're having trouble getting those records, a 9/11 lawyer can get them for you. Moreover:
An Attorney Can Help You Obtain 9/11-Related Benefits
Individuals who assisted in the rescue, recovery, and cleanup efforts following the terrorist attacks on September 11, 2001, did so out of a sense of service to others. If you belong to this group, then you deserve assistance from skilled, experienced attorneys who can help you obtain compensation from the federal programs that were put in place to benefit responders and survivors.
A 9/11 benefits attorney can help you determine if you qualify for benefits from the WTC Health Program and compensation from the 9/11 VCF, and can explore other programs potentially available to you based on the circumstances of your case.
An attorney can also assist you in preparing an application for WTC Health Program benefits, and in submitting a claim to VCF for compensation. Finally, an attorney can help you challenge and potentially reverse claim denials.
To learn more about obtaining and using records from NYU or another WTC Health Program provider, and to explore your rights in connection with a 9/11-related health condition, contact a 9/11 benefits attorney today.