Troy Rosasco and Daniel Hansen Talk Zadroga Act with Nassau Bar Journal and Suffolk Bar Journal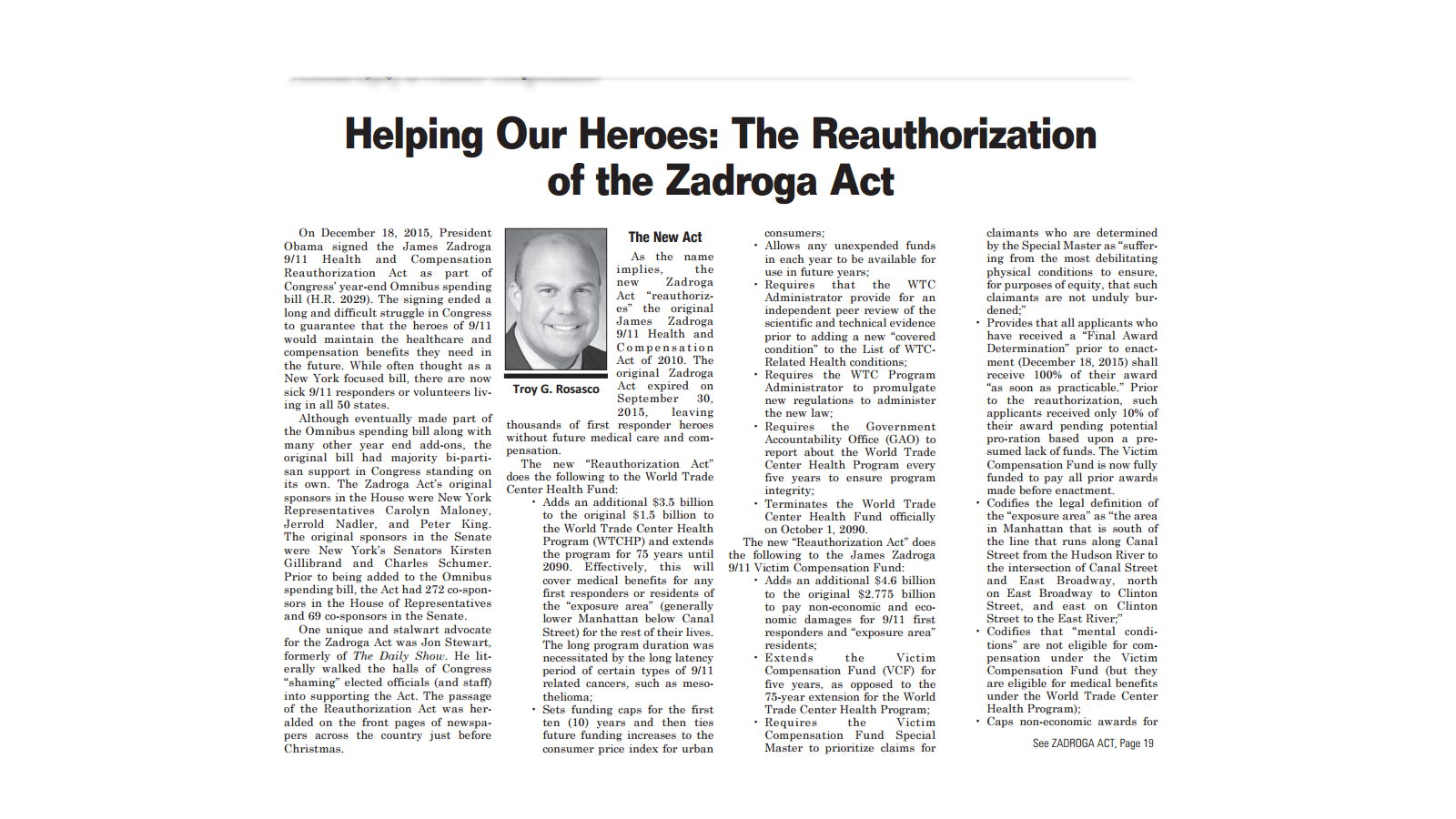 Turley, Hansen & Rosasco is proud of the work our attorneys do to support and aid our 9/11 clients. Most recently, Troy Rosasco – one of the leading workers compensation and disability attorneys in the New York metropolitan area – has published articles in both the Nassau Bar Journal and Suffolk Bar Journal, educating other lawyers on the Reauthorization of the Zadroga Act. The Zadroga Act is named after 9/11 first responder and NYC Police Officer James Zadroga, who passed away at the age of 34 from a respiratory illness contracted during his nearly 500 hours spent searching the rubble of the World Trade Center following the 9/11 attacks. The act was originally signed into law by President Obama in early 2011, and established the World Trade Center (WTC) Health Program, ensuring that those affected by 9/11 receive monitoring and treatment for 9/11-related health problems through 2015.
Troy Rosasco's article from the Nassau Bar Journal, titled Helping Our Heroes: The Reauthorization of the Zadroga Act, lays out just what the reauthorization of this bill means for the first responders and others who were residents of the "exposure area" (generally referring to the area of lower Manhattan south of Canal Street) after 9/11. As Rosasco points out, although this bill is often thought of as being a New York-focused bill, now nearly 15 years after 9/11, there are sick 9/11 responders or volunteers living in all 50 states, making this a nationwide issue. President Obama signed the James Zadroga 9/11 Health and Compensation Reauthorization Act as a part of Congress' year-end Omnibus spending bill on December 18th, 2015. Finally, a long and difficult struggle in Congress was ended. The Reauthorization Act extends the program for 75 years, with the official end date being on October 1, 2090, thus covering first responders and residents of the "exposure area" for the rest of their lives.
For the Suffolk Bar Journal, Troy Rosasco and Daniel Hansen teamed up on an article titled James Zadroga 9/11 Health & Compensation Act of 2010. In this piece, the two lawyers go more in depth about exactly what programs are funded under the Zadroga Act, as well as the eligibility criteria clients have to meet in order to be accepted to the program. Overall, the new law establishes a medical monitoring and treatment program for WTC responders, including those who performed rescue, recover, demolition, debris clean-up, and related services. To receive treatment under this program, the condition of the patient must be among the identified WTC-related listed conditions, and the condition must be determined by a physical at a Clinical Center of Excellence to have been caused or contributed to by exposure to adverse conditions resulting from the 9/11 attacks. Additionally, the Zadroga Act establishes a "survivor program" for non-responders who lived, worked, or went to school in the defined areas of lower Manhattan and Brooklyn for a period of time after the 9/11 attacks, provided that they also meet the established eligibility requirements of the program. This period of "immediate aftermath" that was first defined as being a period of 12 hours after the attacks – or 96 hours for rescue workers – was extended in the Zadroga Act to be any period of time from the crashes on September 11, 2001, through to May 30, 2002. To read the full article, click here.
Turley, Hansen & Rosasco' combination of one of New York's top trial attorneys, Daniel J. Hansen, with the 9/11 experience of New York's premier workers compensation/Social Security disability law firm, Turley Redmond Rosasco & Rosasco, LLP, encompasses a powerful set of legal skills that greatly benefits their 9/11 clients. The firm assists with all legal needs of the 9/11 community, from workers compensation to Social Security Disability, successfully providing their clients with the legal basis for large awards from the Victim Compensation Fund. The firm now represents nearly 1,000 9/11 first responders and lower Manhattan residents in their Victim Compensation Fund claims.