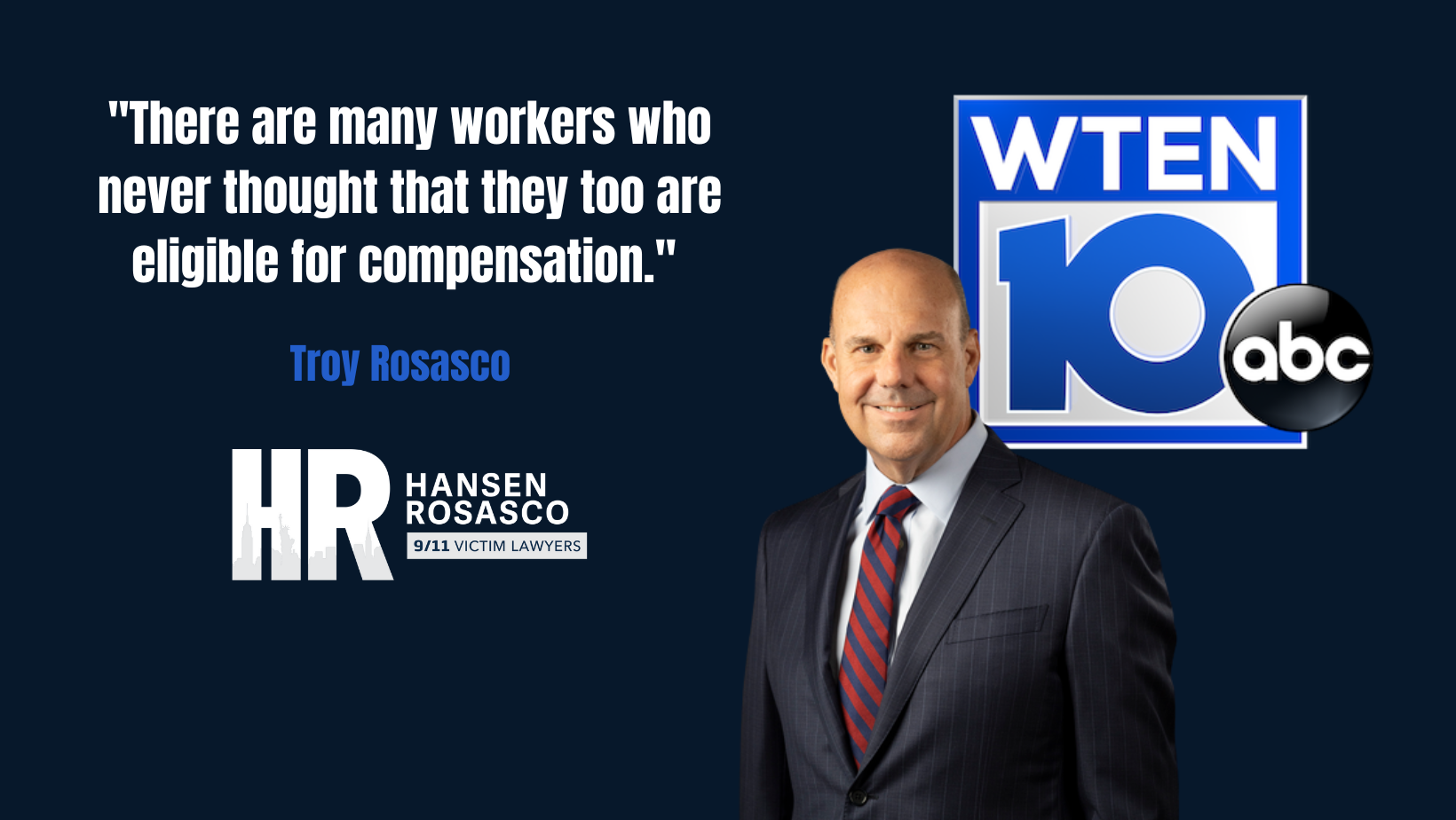 Partner Troy Rosasco was quoted in the abc News 10 article NYS expanding awareness of 9/11 compensation program published on June 3rd.
ALBANY, N.Y. (WTEN) — The health impacts from the devastating events that unfolded on 9/11 are still with us 22 years later. Experts say those who were near the twin towers were subjected to harmful particles and debris that caused various cancers and a slew of other health issues. A new measure out of the state capitol would require employers to notify employees of their eligibility for a victim compensation fund.
The 9/11 Notice Act would require employers with more than 50 employees to notify them of their eligibility for the benefits and the World Trade Center Health program. This would be available for those who were below Canal Street in Lower Manhattan, between September 11, 2001 to May 30, 2002. The bill passed in the legislature and awaits the Governor's signature.
Troy Rosasco, a 9/11 victim compensation fund lawyer said, outside of first responders, there are 400,000 people entitled to 9/11 benefits, "There are many workers who never thought that they too are eligible so when you look at downtown cleaners for instance, downtown, Wall Street brokers, administrative staff." When the buildings collapsed it came with tremendous amounts of toxins such as fiber glass, steel, benzene, asbestos and more. "They were told that the air was safe on and after 9/11 and the federal government wanted them to report back to work at that time because we needed to get the financial capital of the world back up and running," said Rosasco.
But studies show the pollution resulted in a rise of various cancers, airway and digestive disorders and mental health issues. Rosaco said the funds are the federal government's way of remedying their mistake. The compensation from the funds depends on the severity of the illness. But what about family members who lost a loved one due to a 9/11 induced illness? "Anyone who had a family member who worked downtown or was a resident downtown essentially after 9/11 should reach out to the 9/11 fund and register for these benefits. Find out if you're eligible. All you have to do is make a call," said Rosasco. You can visit VCF.gov or call 1-855-885-1555 to find out more.